Broken Thermostat in Langley, BC? Want to replace your existing one with a modern, energy-efficient model? Give the HVAC Pros at Lewis MacLean a call.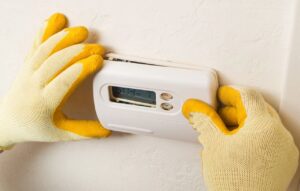 As a homeowner in the Langley, BC area, you know how important a properly functioning cooling system is. If your HVAC system isn't working properly, it may not be a problem with your AC unit or furnace, it could be an issue with a
broken thermostat
. A broken or malfunctioning thermostat can cause extreme temperature swings, a unit that cycles on and off too often, or a furnace that doesn't produce heat. If you're experiencing any of these problems, check your thermostat first.
Before you do anything, be sure that your HVAC system has power. Check to see if a breaker has been tripped or if you have a blown fuse. If your HVAC system is getting power, the next step is to check if your thermostat needs new batteries. Test or simply replace the batteries in your thermostat with fresh new batteries (check you owners manual for details).
Schedule HVAC Repair or Maintenance

Lewis MacLean is your friendly, local HVAC contractor servicing most brands of equipment and proudly installing industry leading Air Conditioning systems.
How to Fix or Program a Broken Thermostat
Before moving forward with a "Fix," you'll also want to be sure that your thermostat is set properly. If it's winter, make sure your thermostat is set to "Heat." During the Summer, or warmer months, you'll want your thermostat set to "Cool." This is obvious, but easily, and often overlooked. If it seems like your AC or furnace is constantly blowing air, check to see if your thermostat's fan is set to "On." It should be set to AUTO. This will ensure that the blower is only working when your HVAC system is producing warm or cool air.
Test or replace the batteries (digital thermostats only). If your thermostat is wireless, make sure you're using AA Lithium batteries (or manufacturer recommended batteries).
Check for loose wires or screws and tighten as necessary
Dust and clean your thermostat
Check thermostat location – you want to be sure your thermostat isn't in direct sunlight or close to a heat source, as this could greatly impact the accuracy of your thermostat
Check the balance (on older, mechanical thermostats – if your thermostat isn't level, your mercury switch may not work properly)
Check Anticipator (Check out this great article on Adjusting the thermostat heat anticipator on mechanical thermostats)
If you're interested in how a mechanical thermostat works, check out this great "Mr Wizard's World" video on "How it Works" from Nickelodeon.
Thermostat Still Broken?
If none of these tips get your AC or furnace working properly, give the expert HVAC pros at Lewis MacLean a call. We'll get a tech out to your house right away to diagnose and fix the problem, or install a new thermostat. If you do need a new thermostat installed, we recommend investing in a smart, programmable or wireless thermostat, as they can keep your family comfortable, and save you money.