Looking for quality dehumidifier repair or service in Langley, BC? Want to replace your existing unit with a modern, energy-efficient model? Give the HVAC Pros at Lewis MacLean a call.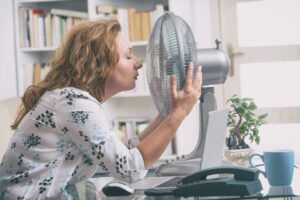 On days when it's not hot enough to turn on the air conditioning, the humidity level can rise quickly in your home. This is a common dilemma that many homeowners face. Most figure that it's something they have to accept with the changing seasons. The experts at Lewis MacLean have a solution to keep you comfortable the whole year through.
24/7 Emergency Whole House Dehumidifier Repair
Do you need emergency dehumidifier repair? If your unit breaks down in the middle of the night or over the weekend, don't despair – we have expert repair techs on-call and standing-by to take care of your problem, 24 hours per day, 7 days a week.  Call (604) 532-9625 now!
Whole House Dehumidifier Service & Installation
Lewis MacLean is your friendly, local HVAC contractor servicing most brands of equipment and proudly installing industry leading dehumidifying systems.
Whole House Dehumidifiers Offer a Solution
People often have higher than normal amounts of moisture in their homes, due to humidity levels in the shoulder seasons like spring and fall. Whole house dehumidifiers remove the humidity from your home that your air conditioning system would normally eliminate. Even in the hotter summer months, when your air conditioning is between cycles or turned off on cooler days, the dehumidifier kicks on to relieve your family of the oppressive humidity. As an added bonus, dehumidifiers decrease mold, mildew, and dust in the home. This reduces allergens and provides relief for the respiratory issues many people suffer from.
How Lewis MacLean Can Help
The proper installation of a whole house dehumidifier is a delicate procedure that requires the expertise of knowledgeable professionals. The team at Lewis Maclean are industry leaders in all areas of plumbing, heating, and air conditioning. We have spent 60 years building a reputation in the community as a family-focused business, providing the ultimate in customer service for home heating, cooling, and plumbing needs in Langley, BC.
Our staff is fully trained in all areas of home climate control systems, and dehumidifier service is a rapidly growing field that completes these systems in the home. If you haven't had the opportunity to take advantage of our team's services, we would be happy to help with all your updating and maintenance needs. Our expert air conditioning techs can come to your home, provide an evaluation of your current system, and install a whole home dehumidifier to make your family more comfortable all year long. In addition to work on heating and cooling systems, we also provide dehumidifier repair and plumbing services to fix minor issues and prevent bigger problems down the road.