Looking for quality air filtration service in Langley, BC? Give the HVAC Pros at Lewis MacLean a call.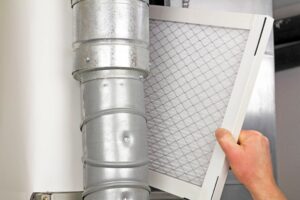 Air filters are one of the most overlooked, yet integral, parts of your home heating and cooling system. For those who suffer from allergies and respiratory problems, air filters provide one of the first lines of defense against pollen, dust, and other allergens circulating throughout your home. They also prevent larger pieces of debris from entering your HVAC system and causing damages or fires. It is essential to see that your air filters are changed regularly, as avoiding air filter replacement is the number one cause of home heating and cooling system failure.
Air Filtration Service & Installation
Lewis MacLean is your friendly, local HVAC contractor servicing most brands of equipment and proudly installing industry leading Air Filtration systems.
Issues Caused by Dirty Filters
When homeowners neglect or forget to change the air filters in their HVAC systems, there are a multitude of problems that may arise. These are just a few of the many problems you may face.
Dust and Allergens. Dirty air filters don't allow air to circulate properly through your system or your home. This results in particulates gathering on furniture, household surfaces, and your ductwork. Your house needs to be cleaned more frequently and allergies become more active.
Bacteria and Mold. When there is excessive dust and dirt on your air filter, it creates a perfect habitat for mold and bacterial growth. These colonies contribute to the blockage of your filtering system and can cause serious health problems if they get into your system and begin circulating through your home.
System Strain. A build-up of dust and other particles on your air filter makes it harder for the air conditioner or furnace to work efficiently. The units have to work overtime to heat and cool your home, and your utility bills go up. In extreme cases, the heated or cooled air actually becomes trapped in the heating or cooling unit and causes it to freeze up or overheat. The added expense of costly repairs is unnecessary and certainly unwelcome.
Climate Comfort. When the air can't circulate properly throughout your home, it is difficult for temperature sensors to effectively regulate your system's activity. As a result of this, you may find your home is cooler or hotter than you want it to be.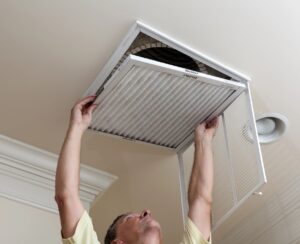 Lewis Maclean Is Your Go-To Team
The heating, cooling, and plumbing experts at Lewis Maclean have long been the best in the area for services such as air filter inspection, air filter installation, and any maintenance, repair, or installation needs you may encounter with your home heating and cooling system. In our 60 years of experience in the industry, we have established ourselves as the premier choice for plumbing and HVAC services in the Langley, BC area.
If you are unsure whether your air filters need to be changed, chances are, they do. The type and quality of filter you use determines how frequently it should be replaced, but even the highest quality filters achieve the best results when changed every six months. Call on the best in the business today for your air filter needs at  604-532-9625. Lewis Maclean can inspect your system, change your air filters, and ensure everything is running smoothly to keep your family comfy and safe.