Standing By Our Promise to You
We Stand Behind Our Service 100%. That's Why We Put It in Writing!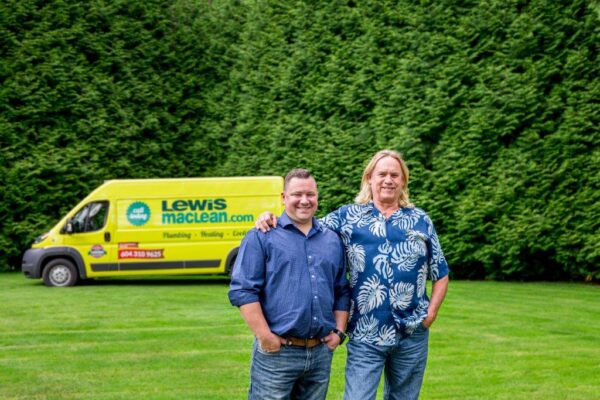 Tyler Dillion and George Lewis
WOW, in this day and age you're presented with so many options for everything, how DO you choose what's right for you?
We know that you're probably feeling the same way when you're looking for a plumbing, heating, air conditioning or drainage company. Right?
That's why we've set out to WOW you in a different way!
Lewis MacLean is definitely not, your average service company. Our owners, Tyler Dillion, George Lewis, and Lynn MacLean, have put their many years of experience in the customer service, plumbing, heating, drainage, renovations, new construction, and real estate industries together to form the most comprehensive Service Company available to you today.
They've put their names on it because they're fully committed to promising you that our exceptional in-house service is second to none. And, that it was developed firstly with you, the customer, in mind.
We're the only in-house Service Company that puts you in the drivers seat every step of the way.
Guaranteed Langley Service
From our Upfront Pricing that guarantees your costs (with no extras along the way), BEFORE we start any work for you; to our Lewis MacLean Family of Guarantees written to protect you in every way; to our clean-cut, background checked, drug tested, "gentlemen" and "gentlewomen" Plumbers and Technicians who guarantee your family is safe when we're in your home; to our extensive list of complimentary services available to you every time we're in your home; to our $5,000,000.00 in insurance that protects you and your home to the max; to making sure that your service experience is hassle free; to sourcing premium parts for your home, so you'll enjoy years of worry-free use; to the training and training and more training our staff receives each year–over 150 hours. Whew, this list just goes on and on – we invite you to check out more throughout the rest of our website.
But, no matter how you look at it, the bottom line is this:
If you're looking for the best, most comprehensive, most stress-free, in-house services, from people who care about your time, your home, and your family as much as you do…
Lewis MacLean is committed to being that company.
"Simplifying Your Life" is more than just our slogan.
It's our pledge to you.
Lewis Maclean is your friendly, local HVAC contractor servicing most brands of equipment and proudly installing industry leading HVAC and Plumbing systems.
Why Choose Lewis MacLean?
Are we the best heating and air conditioning company in Langley? We like to think so. But don't just take our word for it – ask for recommendations, read online reviews and check out the Better Business Bureau to review heating and air conditioning contractors in your area.  When you do, you'll find that we have great customer reviews on Yelp, Google and Facebook, and we work hard to maintain our A+ Rating at the Better Business Bureau. Give us a call today. We look forward to meeting you and becoming your HVAC contractor of choice.
Pricing

We're committed to providing the very best service experience you've ever seen. When we arrive at your doorstep, you get a lot of value with your assessment fee.
Areas of Service

There is no part of the Lower Mainland we don't cover. We're here to help you, wherever you need us, and whenever you need us.
Our Guarantee

Your Peace of Mind Always Comes First. We Stand Behind Our Service 100% – That's Why We Put It in Writing!
Reviews

We look at service a little differently than other companies in our industry. We think our clients deserve only the best.